The effects of disasters may be divided into health effects and other effects.
Health Effects
Injuries & Deaths
Emotional Stress and Psychological Reactions
Epidemics
Increase in indigenous diseases
Other Effects
Food Shortage
Disruption of Services / Infrastructure Damage
Property Damage
Environmental Damage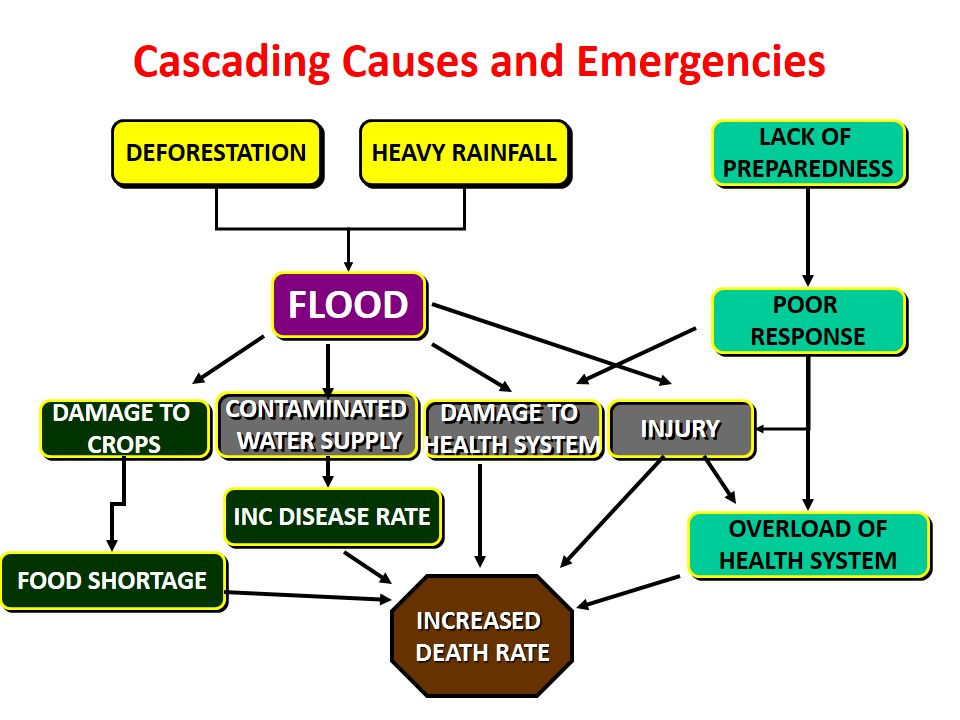 Post Disaster Public Health Challenges
Major Public Health Issues (Post disaster)
Environmental pollution
Water Contamination
Poor Sanitation
Malnutrition
Protein Energy Malnutrition (PEM)
Vitamin A deficiency
Epidemics
Spread of infectious diseases
Causes of Outbreaks of Infectious Disease in Disasters
Population displacement
Environmental changes
Loss of public utilities
Disruption of basic health services
Impact of food scarcity and hunger
Factors for Disease Transmission after a Disaster
Environmental considerations
Endemic organisms
Population characteristics
Pre- event structure and public health
Type and magnitude of the disaster
Common Modes of Transmission
Person-to-person
Feco-oral/Enteric
Shigella, Cholera, Typhoid, Hepatitis
Vectors
Specific Infectious Diseases after Disasters
Measles
Acute Respiratory Infection
Cholera
Shigellosis
Malaria
Typhoid
Hepatitis
Meningitis
In displaced populations  80 –90% of deaths occur due to 5 conditions:
Malnutrition
Measles
Acute respiratory infection
Diarrheal diseases (Cholera, Shigella)
Malaria
Diagnosis and Treatment
As there are large numbers of patients, limited resources and austere conditions, one has to rely on
Clinical Diagnosis
Empirical Treatment
Measles –diagnosis
a. Fever
b. 3 Cs
Cough
Coryza
Conjunctivitis
c. Rash
Measles Vaccination
Early in the emergency situation
–      All children 6 months to 5 years
–      Long term situations children 9 months to 5 years
–      Any child vaccinated between 6 and 9 months -revaccinate at 9 month
If insufficient vaccine available, in order of priority
–      undernourished children 6 month to 12 years
–      all other children ages 6 to 23 months
–      all other children 24-59 months
Concurrent vitamin A administration
Acute Respiratory Infections
Acute respiratory infections are a leading cause of death among effected populations. Pathogens involved are a variety of viruses and bacteria.
Control:
Provide adequate space, shelter, clothing, blankets, and ventilation
Cholera –Diagnosis
Severe dehydration
Rice water stools
Painless
Huge volumes
Vomiting
Shigellosis –Diagnosis
Bloody stools
Cramps
Fever
Malaria –Diagnosis
Fever
Jaundice
Cerebral symptoms
Renal failure
Splenomegaly
Vector Control Methods
1. Habitat Control
2. Reducing Contact
3. Chemical Control
Insecticides, larvicides, rodenticides

Repellents
Insecticide use must be monitored by professionals
4. Biological Control
Physical screens can be used to control immediate problem. For the longer term -make environment less favorable for the vectors.
Following steps can be taken as well:
Improve personal hygiene through:
Sanitation
Drainage
Garbage disposal
Food storage and handling practices
Remove stagnate water
Camp location
Vector Borne Diseases
Disaster environments are very conducive to the proliferation of diseases-carrying insects and rodents (vectors).
Diseases such as malaria, filariasis, dengue, yellow fever, encephalitis, scabies,   scrub typhus, plague, endemic typhus, relapsing fever, leptospirosis are vector borne.
Typhoid Fever –diagnosis
Rose spots
Fever
Bradycardia
Hepatitis Diagnosis
Meningococcal Meningitis –Diagnosis
Fever
Headache
Neck stiffness
Purpuric rash
Purulent CSF