Fever is an elevation of body temperature above the normal circadian range as the result of a change in the thermoregulatory center located in the anterior hypothalamus
Max normal oral temp in morning is 37.2*C (98.9*F)
Max normal oral temp in evening is 37.7*C (99.9*F)
Rectal temp is 1*F higher
Given these criteria, an a.m. temp >98.9*F or a p.m. temp of > 99.9*F would define fever.
Febrile response is a complex physiological reaction to an illness, involving a cytokine mediated rise in core temp, the generation of acute phase reactants, & the activation of numerous physiologic, endocrinologic and immunologic systems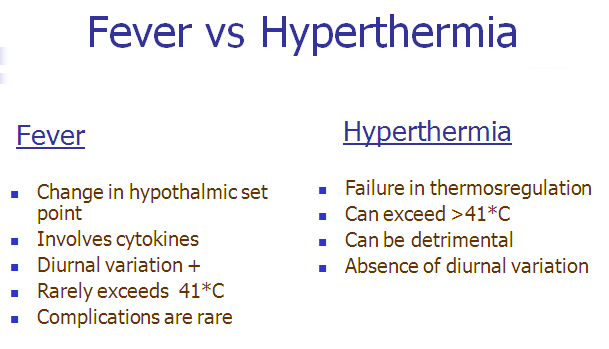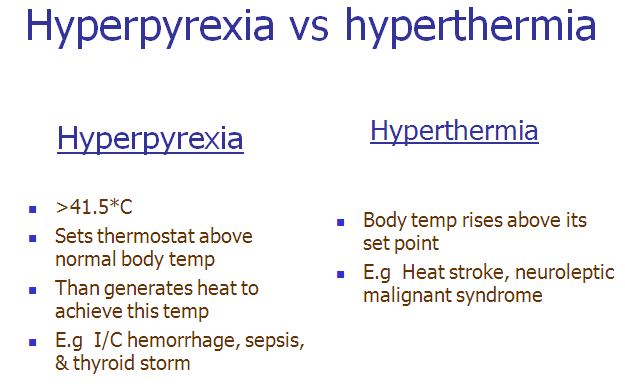 Pattern of fever
Sustained fever/continuous fever
Typhoid, pneumococcal
Intermittent fever
Pyogenic abcess, malaria
Remitting fever
Viral infections. mycoplasma
Relapsing fever –Lymphoma, Dangue
Fever – pulse Disparity– Typhoid, legionella
Drug fever
Current evidence
Indicates  fever is a primitive immunologic response with long phylogenetic history
Studies show that fever & its direct consequences are adaptations and natural selection
Specifically to fight infections  both by increasing the phagocytic activity—Neutrophils
Optimizing cytotoxic activity of Lymphocytes
Cost of fever
For each 1*C  rise:
Increase in 13% O2 consumption
Increase in caloric needs
Induction of temp infertility in men
Accelerate muscular catabolism
Antipyretics frequently used without compelling medical reason
In most febrile illness there is no evidence that fever is detrimental & that antipyretics offer any benefit
Whom to be treated first ?
Pregnant women— a hypermetabolic state can be dangerous
Children with hx of febrile seizures
Patients who cannot tolerate a rise in intracranial pressure
Physicians should treat fever only when the expected benefit outweigh the possible risks
Pathogenesis
With >37.2*C the body responds:
Muscle shivering, vasoconstriction & piloerection–chills

Thereby body conserving temp followed by

Vasodilatation, muscle spasm—-sweeting
Exogenic toxins/pyrogens (Bacteria, viruses, parasites)
Endogenic toxins (cytokines, bacterial products IL-1, IL-6, TNF-a)
Both affect on thermosensitive neurons on Hypothalamus

Thereby increasing heat production & decreasing heat loss

Temp rises till the new set point

This info is conveyed by the temp of the blood flowing around hypothalmus
The pyrogens trigger synthesis of prostaglandins of group E from arachdonic acid (PGE2) which through cyclic AMP resets the central thermostat
NSAIDS/antipyretics inhibit PGE2 thru inhibiting Cyclo-oxigenase pathway
Glucosteroids inhibit all pyrogens thru lipo-oxygenase pathway (IL & TNF-a)
Cytokines stimulate immune response at 39.5*C
They also recruit neutophils & enhance their functions Indicating fever as a positive factor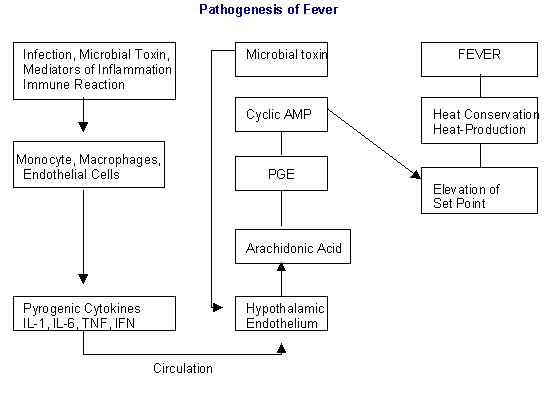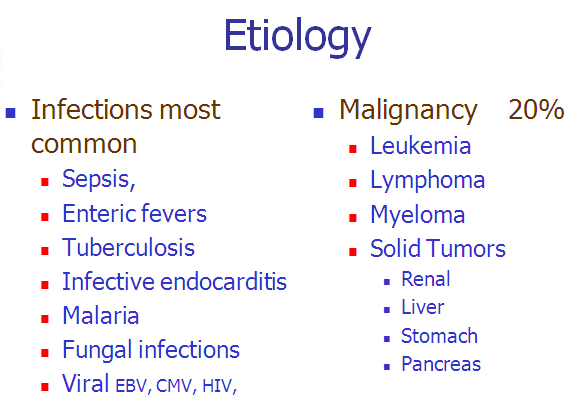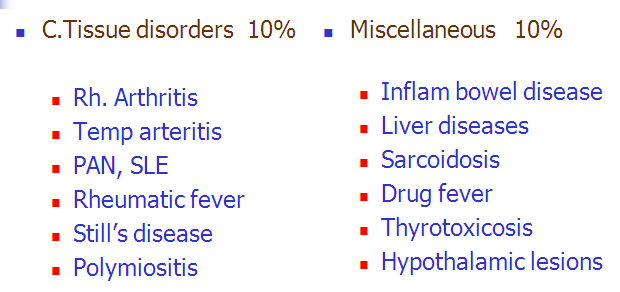 Diagnostic approach
History taking
Complete physical examination
Investigations
Management
Complete physical examination
Do not overlook:
Rash or skin nodules

Eyes

Optic fundi

Upper airways

Rectal examination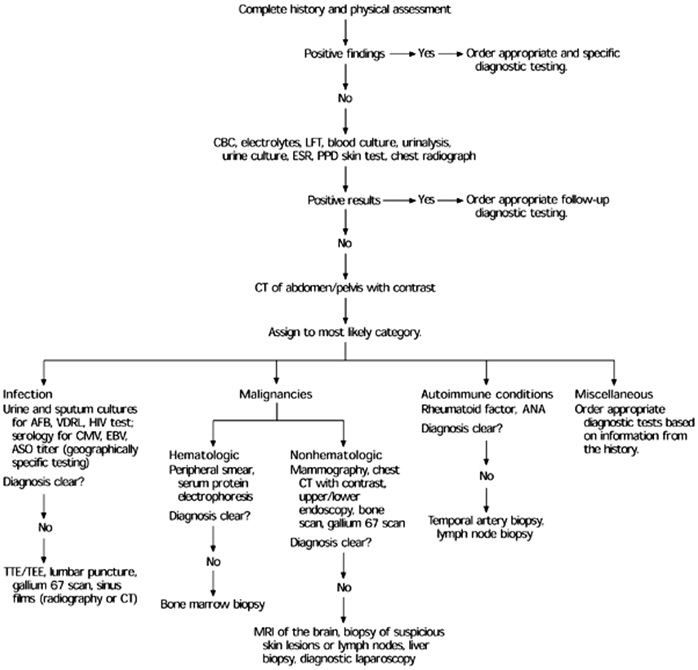 Investigations
CP with ESR, C-reactive protein
Chest radiograph
Malaria films, Urinalysis
Blood culture, urine culture, faeces culture
Sputum RE & Culture
Ultrasound exam of abdomen
Serological tests for viruses, bacteria, fungus and parasites
LFTs, RFTs
Blood sugar, CPK, Bone biochemistry
ECG/Echocardiogram
Biopsies- Liver, bone marrow
Immunological tests-  auto-antibodies, PCR, TB serology