Bacteroides and Prevotella are gram negative rods, non- spore forming, encapsulated, anaerobic and non-motile bacteria.
Route of entry
Part of normal flora, colonize human colon and vagina.
Pathogenesis
•    Infections are endogenous, following a break in the mucosal surface, organism causes infections.
•    Local abscesses are formed at the site of mucosal breaks.
•    Metastatic abscesses form by hematogenous spread to other organs.
•    Lung abscesses occur by aspiration of oral flora.
•    Facultative anaerobic conditions are required.
•    Endotoxin (lipopolysaccharide) produces sepsis and septic shock
•    Enzymes causes tissue damage:
Hyaluronidese
Collagenose
Phospholipase
•    Polysaccharide capsule is antiphagocytic
Virulence Factors
•    Capsule
•    Endotoxin-LPS
•    Hyaluronidase
•    Collagenase.
•    Phospholipase
•    B- lactamase
Predisposing Factors
•    Surgery
•    Trauma
•    Chronic disease
•    Local tissue necrosis
•    Impaired blood supply
•    Growth of facultative anaerobes at the site
Clinical Symptoms  
•    Intra-abdominal infections
•    Pelvic abscesses
•    Necrotizing bacteremia
Bacillus Fragilis causes disease below the diaphragm and B. melaninogenicus causes disease above the diaphragm.
Lab Diagnosis
Specimen
•    Pus
•    Exudates
•    Inflected tissue
•    Blood
Microscopy
Important features observed under microscope include:
•    Gram- negative rods
•    Non- spore forming
•    Capsulate
•    Anaerobic
•    Non- Motile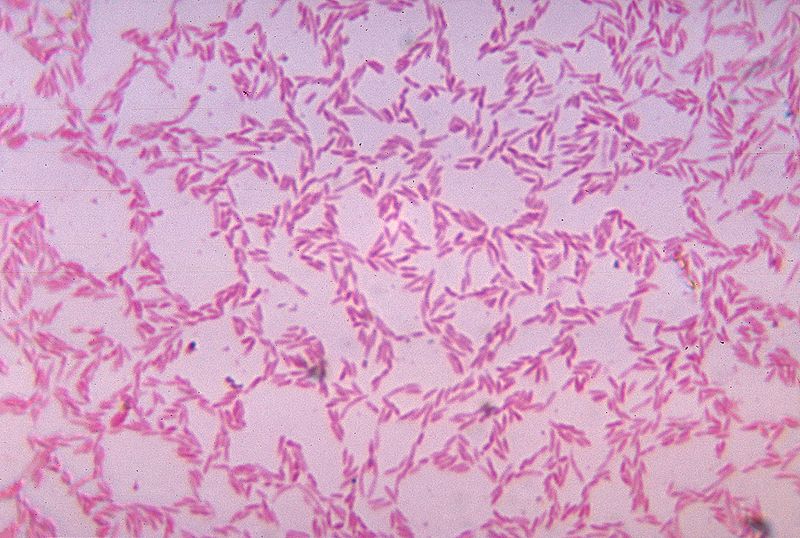 Culture
Blood agar plus vancomycin    
Grey, glistening colonies are formed which are non- haemolytic
Biochemical Tests
•     Sugar fermentation
•    Organic acid production detected by gas chromatography
Serological Tests
•    PCR
Treatment
•    Penicillin resistant because of B- lactamose
•    Metronidazole with clindamycin is given