Bordetella is a genus of gram negative coccobacilli, which are encapsulated. They are non-motile except B. bronchiseptica and are obligate aerobes except B. petrii. They are highly fastidious.
Pathogenesis
Route of entry
Bordetella infects only humans and is transmitted by air borne droplets.
Capsule is antiphagocytic
Organism produces pigment
Hemaggluttinin, facilitates attachment to the cilia of the epithelial cells of the respiratory tract.
Adenylate cyclase is taken up by phagocytic cells and inhibits their bactericidal activity.
Pertussis-toxin inhibits signal transduction by chemokine receptors, therefore lymphocytes cannot enter lymphoid tissue.
This stimulates adenylate cyclase by catalyizing ADP-ribosylation of inhibitory submit of G-proteins complex (Gx).
Toxin also binds to receptors on the surface of the respiratory tract epithelial cells.
Virulence factors
•    Filamentous hemagglutinin
•    Pertussis toxin
•    Adenylate cytotoxin
•    Capsule
Predisposing factors
•    Infants and young children
•    Immunocompromised
Clinical symptoms
•    Whooping cough
•    Severe paroxysmal cough (1-4 week)
Series of hacking coughs
Massive amounts of mucus
•    Leukocytosis up to 70%
•    Exhaustion due to cough
•    Pneumonia
Lab- Diagnosis
Specimen
•    Nasopharyngeal  secretions collected by aspiration
•    Per nasal swab
Microscopy
•    Gram negative coccobacillus
•    Non-motile
•    Capsulated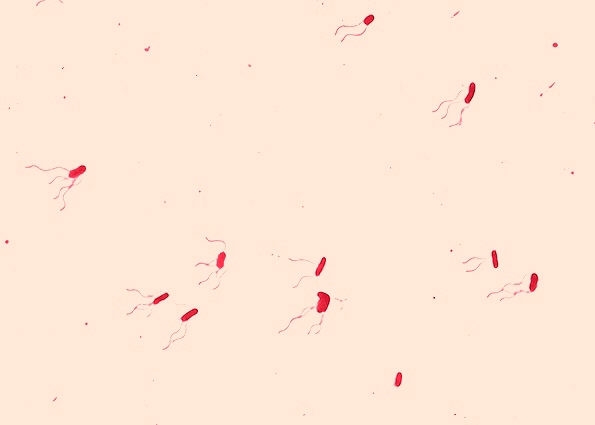 Culture
•    Strict aerobes
Charcoal cephalexin blood agar  
Small pearly grey, shiny, mucoid colonies are formed.
Biochemical tests
•    Urease                     negative
•    Does not reduce     nitrate
•    Oxidase                    positive
Serological tests
•    Fluorescent- antibody staining
•    PCR
Treatment
Erythromycin
Oxygen therapy
Suction of mucus