Most of these are opportunistic bacteria, usually present in the large intestine.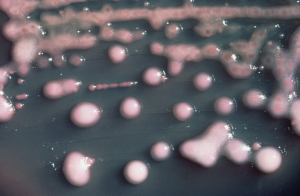 Pathogenesis
Klebsiella pneumoniae
Infection with K. pneumonia is usually primary, thus it is non opportunistic bacteria. Very large polysaccharide capsule is present, making it antiphagocytic.
Enterobacter and Serratia
Infection occurs in hospitalized patients. Septic shock may occur due to endotoxins secreted.
Predisposing Factors
Klebsiella
Elderly
Chronic  respiratory  disease
Diabetes
Alcoholism
Immunity
Malnutrition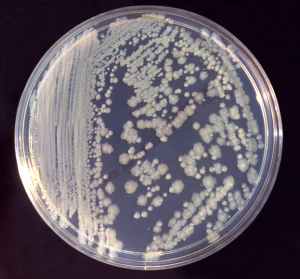 Entrobacter and Serratia
Invasive procedures
Intravenous catheterization
Respiratory intubation
Urinary tract manipulation
Respiratory therapy devices
Clinical Symptoms
Pneumonia
UTI
Bacteremia
Secondary spread to meninges and liver
Klebsiella
•    Thick, bloody, sputum ( current- jelly sputum)
•    Necrosis
•    Abscess formation
K. ozaena
Atrophic rhinitis
K. rhinoscleromatis    
Destructive granuloma of nose and pharynx .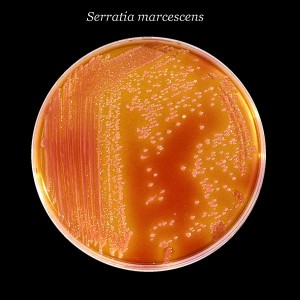 Lab-Diagnosis  
Specimen
•    Urine
•    Pus
•    Sputum
•    Infected tissues
Microscopy
Following features are observed under microscope:
| | | |
| --- | --- | --- |
| Klebsiella | Enterobacter | Serratia |
| Gram- negative rods | Gram- negative rods | Gram- negative rods |
| Non- motile | Motile | Motile |
| Capsulated | Non Capsulated | Non Capsulated |
| Facultative anaerobe | Facultative anaerobe | Facultative anaerobe |
Culture

Blood agar
On blood agar, Klebsiella give large, grey- white mucoid colonies. Enterobacter form grey white colonies.
MacConkey
On MacConkey agar Klebsiella form mucoid, pink lactose fermenting colonies, while Serratia form non lactose fermenting colonies.
CLED
Klebsiella form yellow, mucoid colonies
Biochemical Tests
| | | | |
| --- | --- | --- | --- |
| | Klebsiella | Enterobactor | Serratia |
| Urease | Slow | – | Strain dependent |
| Voges proskauer | + | + | + |
| B-galactosidase | + | + | + |
| Lactase | + | + | Strain dependent |
| Mannitol | + | + | + |
| Glucose | + | + | + |
| Sucrose | + | Strain dependent | + |
| Oxidase | – | – | – |
| Citrate | + | + | + |
| Motility | – | + | + |
| Indole | – | – | – |
| Lysine decarboxylase | + | Strain dependent | + |
| | | | |
| --- | --- | --- | --- |
| | Klebsiella | Enterobactor | Serratia |
| Slant | Acidic | Acidic | Both |
| Butt | Acidic | Acidic | Acidic |
| Gas | + | + | Strain dependent |
| H2S | – | – | – |