Sciatic nerve is a branch of sacral plexus (L4, L5, S1, S2, S3). Sciatic nerve emerges through the pelvis through the lower part of the greater sciatic foramen.
Sciatic nerve originating from Sacral plexus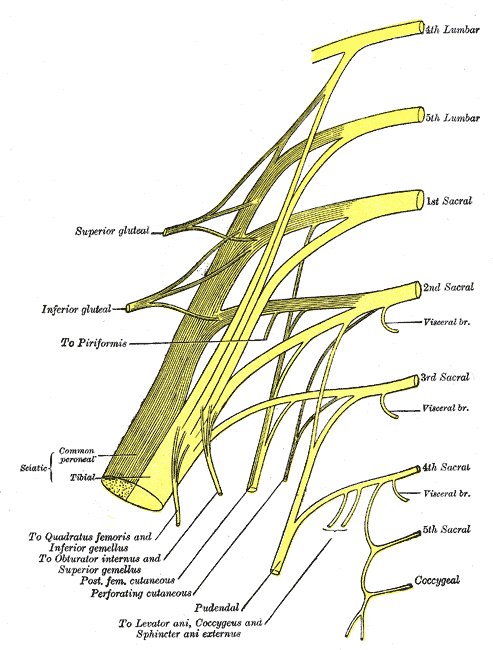 Grey's Anatomy 20th edition
This is the largest nerve and consists of tibial and common peroneal nerves which are bound together with fascia. It appears below the piriformis muscle and curves downwards and laterally, lying successively on the root of ischial spine, superior gamellus, obturator internus, inferior gamellusand quadratus femoris to reach the back of adductor magnus. It is related posteriorly to the posterior cutaneous nerve of thigh and gluteus maximus. It leaves the buttock by passing deep to the long head of biceps femoris to enter the back of thigh.

Grey's Anatomy 20th edition
Occasionally, common peroneal nerve leaves the sciatic nerve high up in the pelvis and appears in the gluteal region by passing above or through the piriformis muscle.
Sciatic nerve gives no branch in the gluteal region. It is overlapped posteriorly by the adjacent margins of the biceps femoris and semimembranosus, and lies on the posterior aspect of adductor magnus.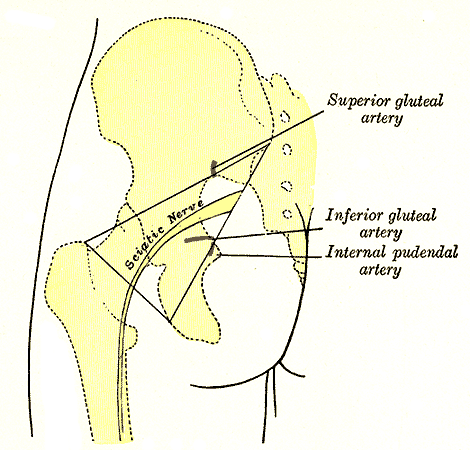 Grey's Anatomy 20th edition
Branches:
Muscular Braches:
Muscular branches supply the long head of biceps femoris, semitendinosus, semimembranosus, hamstring part of adductor magnus.
Terminal Branches:
Common peroneal nerve lies lateral to tibial nerve.