Maternal & child health is one of the important elements of primary health care. Maternal & child health refers to promotive, preventive, curative & rehabilitation health care for mothers & children.
Reproductive Health
Reproductive health is a state of complete physical, mental and social well-being, and not merely the absence of reproductive disease or infirmity.
Reproductive health deals with the reproductive processes, functions and system at all stages of life.
Reproductive Health Components
1.    Safe motherhood
2.    Fertility Regulation
3.    Prevention and management of complications of unsafe abortion.
4.    Prevention & Control of reproductive tract infections, sexually transmitted diseases (STD) including HIV/AIDS & other conditions of reproductive system.
5.    Prevention & Treatment of Infertility
6.    Malignancies of the reproductive tract
7.    Newborn care & responsible parenthood.
Safe Motherhood
Safe motherhood is one of the important components of Reproductive Health. It means ensuring that all women receive the care they need, to be safe and healthy throughout pregnancy and childbirth. It is the ability of a mother to have safe & healthy pregnancy & child birth.
The Safe Motherhood Initiative was launched by the World Health Organization (WHO) and other international agencies in 1987. It is aimed to overcome woman's mortality from complications of pregnancy and childbirth in developing countries. It ensures prenatal, intra natal and postnatal services and supervision.
For making motherhood safe, WHO has recommended four strategic intervention which should be delivered through PHC on the foundation of equity for women:
1.    Family planning
2.    Antenatal care
3.    Clean/safe delivery
4.    Essential obstetric care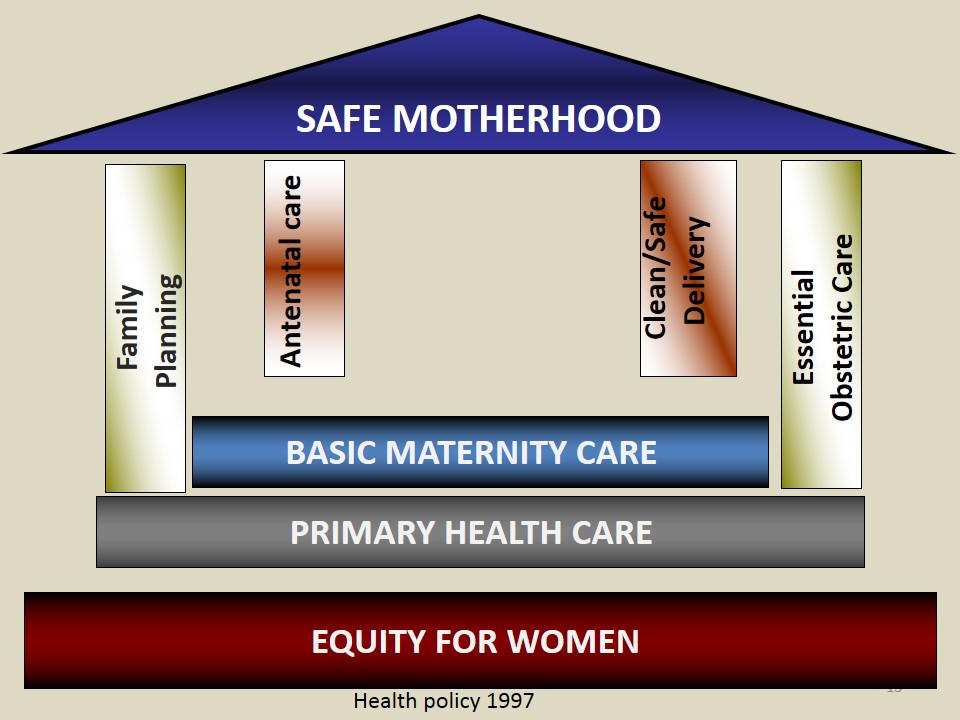 Family Planning
To ensure that individuals and couples have the information and services to plan timing, number & spacing of pregnancies.
Antenatal Care
To prevent complications where possible and ensure that complications of pregnancy are detected early & treated appropriately.
Clean/Safe Delivery
To ensure that all birth attendants have the knowledge, skills & equipment to perform a clean & safe delivery and provide postpartum care to mother & baby.
Essential Obstetric Care
To ensure that essential care for high risk pregnancies is made available to all women who need it and complications are dealt appropriately and referred timely.