Glaucoma is the progressive and characteristic optic neuropathy which is associated with visual field loss as damage progresses and in which intraocular pressure is usually a key modifying factor.
It can also be defined as normal or raised intraocular pressure leading to cupping to optic disc and optic neuropathy along with visual field defects.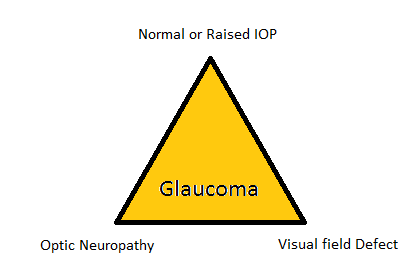 Classification
Congenital or acquired
Open angle or angle closure
Primary or secondary
Normal Intraocular Pressure Range
Normal intraocular pressure is between 11-21 mmHg (mean is 16 mmHg; with 2 standard deviations on either side of it)
Glaucomatous damage with intraocular pressure less than 21 mmHg is normal tension glaucoma.
4-7% of population over age of 40 years has intraocular pressure greater than 21 mmHg without detectable glaucomatous damage.
Intraocular Pressure Measurement
1. Goldmann applanation tonometry (GAT)
It is the gold standard based on Imbert Fick Principle which states that for an ideal, dry, thin walled sphere, the pressure inside the sphere equals the force necessary to flatten its surface divided by the area of flattening.
P = F/A
2. Pneumotonometers
Time required by jet of air to flatten the central part of cornea is directly proportional to the level of intraocular pressure.
3.       Perkins applanation tonometer
4.       Tono pen
5.       Schiotz tonometer
Management
Aim of treatment is to prevent functional impairment of vision within patient's lifetime by slowing the rate of ganglion cell loss closer to that of the normal population (approximately 5000 per year). Currently the only proven method of achieving this is the lowering of intraocular pressure. Each 1mmHg reduction in intraocular pressure leads to a 10% reduction in rate of RNFL loss.
Ocular Receptors
| | |
| --- | --- |
| Receptors | Location |
| Alpha 1 | Dilator papillae/muller muscle/arterioles |
| M3 | Ciliary muscles/Sphincter papillae |
| Alpha 2 | Ciliary epithelium (inhibitory receptors) |
| Beta 2 | Ciliary processes/ trabecular meshwork/bronchi |
| Beta 1 | Myocardium |