•         LIPIDS ARE ORGANIC COMPOUNDS FOUND IN PLANTS AND ANIMALS.
–        INSOLUBLE IN WATER BUT SOLUBLE IN ORGANIC SOLVENTS, e.g. ETHER, BENZENE, CHLOROFORM, ACETONE
–        ARE ESTERS OF FATTY ACIDS OR SUBSTANCES CAPABLE OF FORMING SUCH ESTERS.
–        UTILIZATION BY THE LIVING ORGANISM
FUNCTIONS OF LIPIDS
•         COMPONENT OF ALL CELLS AND CELL ORGANELLES MEMBRANE
•         MAJOR STORAGE FROM OF CARBON AND ENERGY
•         METABOLIC FUEL AND EMULSIFYING AGENTS
•         PRECURSORS OF OTHER IMPORTANT COMPOUNDS (PROSTAGLANDINS)
•         INSULATING MATERIALS AGAINST ATMOSPHERIC HEAT OR COLD
•         PROTECT ORGANS AGAINST PHYSICAL SHOCK
•         PROTECTIVE COATING OF LIPID, PREVENT EXCESSIVE LOSS OF WATER AND INFECTIONS.
•         TRANSPORT OF FAT SOLUBLE VITAMINS AND OTHER FAT SOLUBLE MATERIALS ACROSS CELL MEMBRANE
•         FURNISHES ENERY TO BIOLOGICAL SYSTEM (9.1 KCAL/G)
FATTY ACIDS
•         MAJOR PHYSIOLOGICAL ROLES
–        BUILDING BLOCKS OF PL. AND GLYCO LIPID OF CELL MEMBRANS
–        FATTY ACID DERIVATIVES ACT AS
•         HORMONES
•         INTERCELLULAR MESSENGER
–        FATTY ACIDS ARE FUEL MOL & STORED AS TRIACYLGLYCEROL
CLASSIFICATION OF
FATTY ACIDS
•         CHAIN LENGTH DEPENDENT
–        SHORT CHAIN FATTY ACID                    [2-4 C]
–        MEDIUM CHAIN FATTY ACID                [6-10]
–        LONG CHAIN FATTYACID                       [12-26 C]
MOST OF FATY ACID IN BLOOD BELONG TO THIS CLASS
•         ESSENTIAL AND NON ESSENTIAL FATTY ACID
–        LINOLEIC ACID      =  W6 SERIES
–        LINOLENIC ACID = W3 SERIES
•         SATURATED AND UNSATURATED
–        MONO-ENOIC
–        DI-ENOIC
–        PLYUNSATURATED FATTY ACID
NOMENCLATURE OF FATTY ACIDS
•         NUMBERING OF FATTY ACIDS FROM–COOH  END ( D NUMBERING)
•         OMEGA (w) NUMBERING OF FATTY ACIDS
•         GREEK LETTERING SYSTEM a, b, g
•         POSITION OF DOUBLE BONDS IS SHOWN FROM w OR D
CLASSIFICATION OF LIPIDS
SIMPLE LIPIDS
COMPLEX LIPIDS
PRECURSORS LIPIDS
STEROIDS
SIMPLE LIPIDS:
ALCOHOL + FATTY ACID
a. FATTY ACID –  GLYCEROL
b. WAXES  –  HIGH MOL WT  ALCOHOL + FATTY ACID
2.   COMPLEX LIPIDS: ALCOHOL+F.A+OTHER GROUPS
I.          PHOSPHOLIPIDS
a. GLYCEROPHOSPHOLIPDS: (ALCOHOL  IS GLYCEROL)
•         PHOSPHATIDIC ACID
•         PHOSPHATIDYL GLYCEROL
•         PHOSPHATIDYL CHOLINE
•         PHOSPHATIDYL ETHANOLAMINE
•         PHOSPHATIDYL INOSITOL
•         PHOSPHATIDYL SERINE OR THREONIN
•         LYSOPHOSPHOLIPIDS
•         PLASMALOGENS. (ETHER LINKAGE)
b.   SPHINGO PHOSPHO LIPID – SPHINGOMYLIN
II.  GANGLIOSIDE
CERAMIDE – GLc – Gal – N. Acetylgalactosamine +Gal+Neuraminic acid
GMI GANGLIOSIDE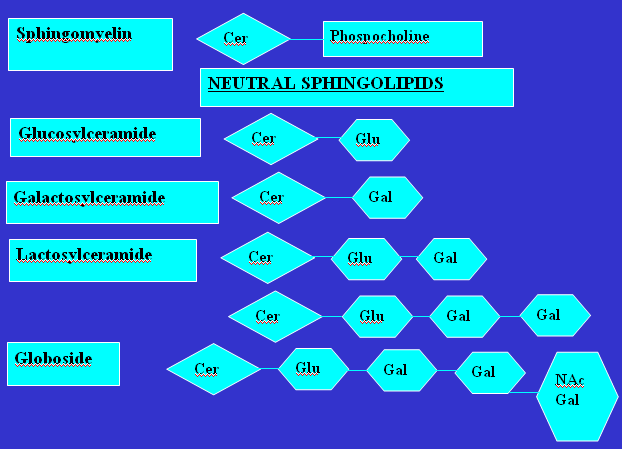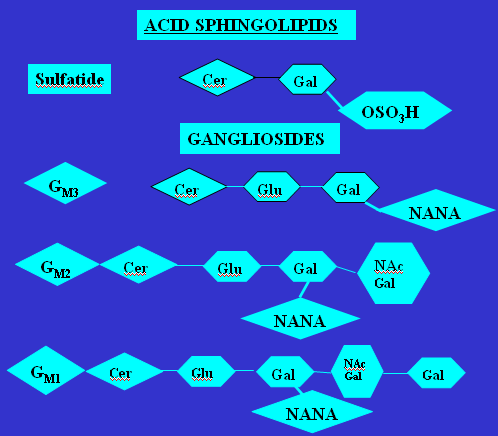 III. LIPOPOLYSACCHARIDES
–        LIPID + POLYSACCHARIDE
OCCURS IN CELL WALLS OF CERTAIN BACTERIA
IV. LIPOPROTEINS
–        LIPID CORE COVERED BY PROTEIN
OCCURS IN PLASMA
3.   PRECURSORS AND DERIVED LIPIDS
–        FATTY ACIDS
–        GLYCEROL
–        STEROIDS
–        ALCOHOLS
–        FATTY ALDEHYDES
–        KETONE BODIES
–        HYDROCARBONS
–        LIPID SOLUBLE VITAMINS.  VIT A, D, E & K
–        HORMONES OF STEROIDS IN NATURE
4.   STEROID/STEROLS
–        CHOLESTEROL
FUNCTIONS OF CHOELSTEROL
•         CELL MEMBRANES
•         BIL ACID
•         VITAMINE D
•         REGULATION OF GENE
•         STERIOD HORMONES
FUNCTIONS OF PROSTAGLANDIN
•         SMOOTH MUSCLES CONTRACTION (PGE2&PGF2a)
•         LOWER BLOOD PRESSURE
•         REGULATE MENSTRUATION AND FERTILITY
•         INDUCE LABOUR (PGE2 & PGF2a)
•         CONTROL INFLAMMATION
•         RELIEVE ASTHMA AND NASAL CONGESTION (PGE2 & PGI2)
•         INDUCE BLOOD CLOTTING TX A2
•         PREVENT BLOOD CLOTTING (PGI2)
•         PREVENT CONCEPTION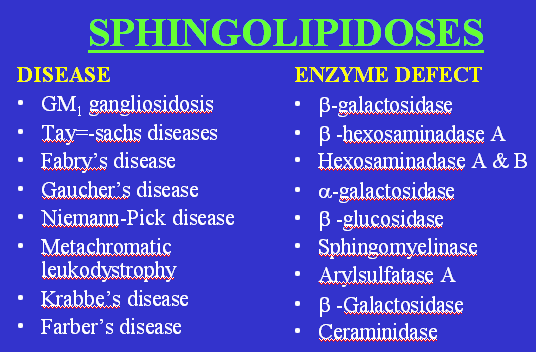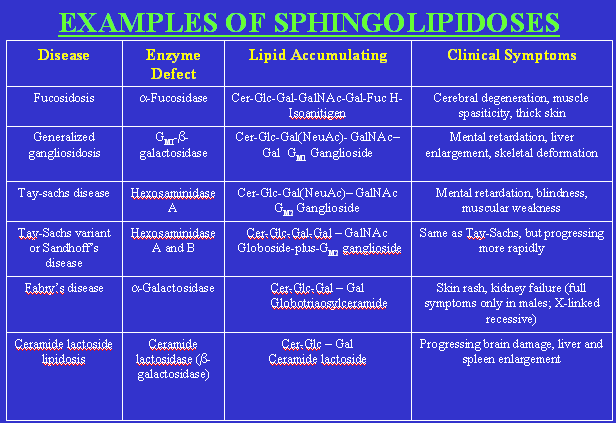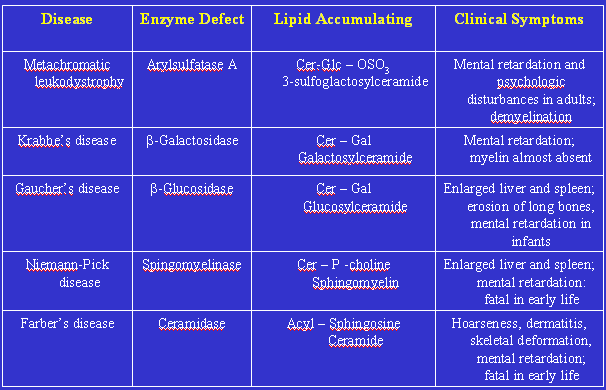 CEREBROSIDES
•         KERASIN
–        FATTY ACID IS LIGNOCERIC ACID
•         CEREBRON
–        FATTY ACID IS HYDROXYLIGNOCERIC ACID
•         NERVON
–        FATTY ACID IS UNSATURATED HOMOLOUG LIGNOCERIC ACID
•         OXYNERVON
–        FATTY ACID IS HYDROXY DERIVATIVES OF NERVONIC ACID