Increased volume of blood in a particular tissue is known as congestion. It is a passive process, resulting from impaired outflow from a tissue. It may occur due to any generalized cause e.g. in cardiac failure. There may also be any local cause of obstruction.
Hyperemia
It is an increase in volume of blood in particular tissue but is an active process, resulting from arteriolar dilatation e.g. in skin during exercise or at the site of inflammation.
Chronic Venous Congestion in Lungs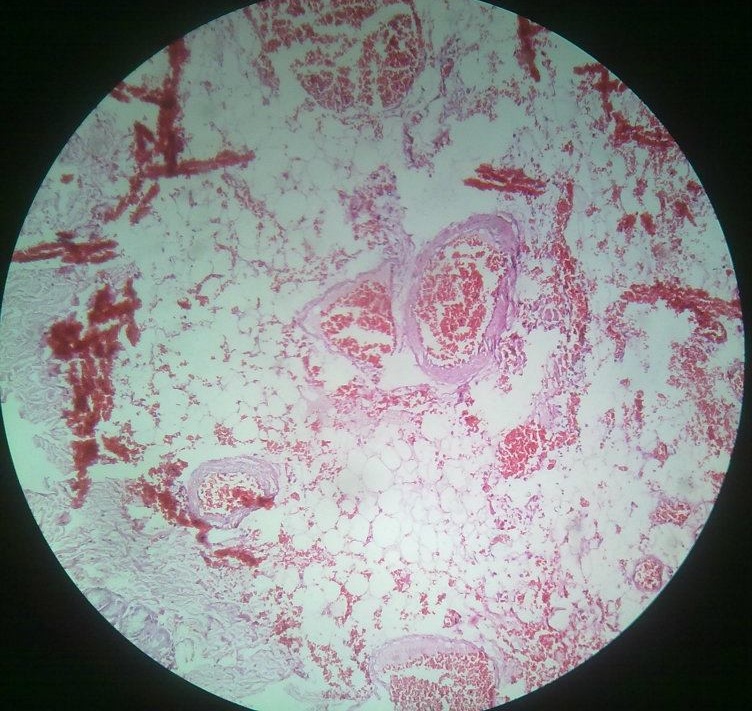 Morphology
Gross
Color of the lungs will be dusky reddish blue. Lungs are heavy and wet. Cut sections show hemorrhagic areas due to abundant extravasation from alveolar capillaries.
Microscopy
Engorged alveolar capillaries seen in alveolar septa. There will be intra-alveolar hemorrhages, alveolar septa and spaces contain numerous heart failure cells. There is thickening or fibrosis of alveolar septa.
Chronic Venous Congestion of Liver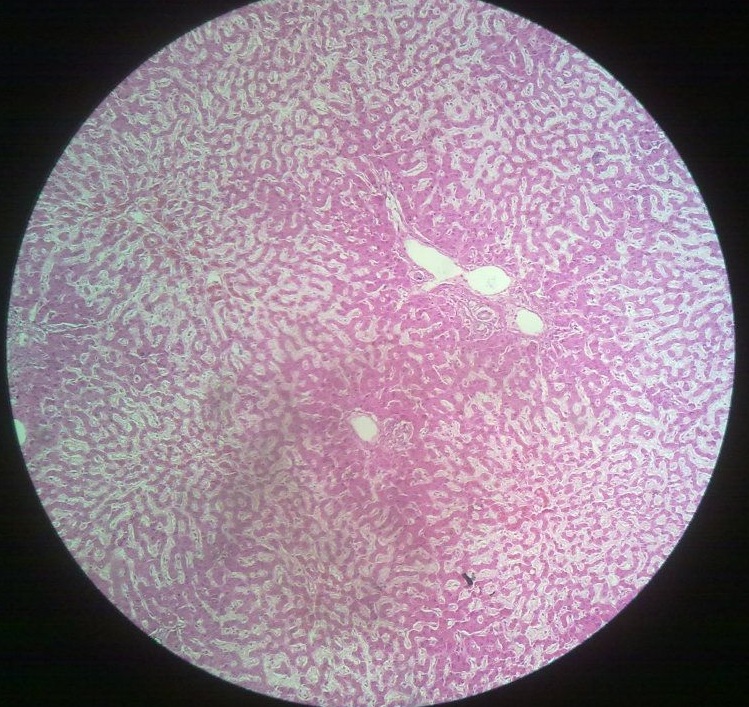 Gross
Liver is larger and wet. Cut section shows congested red centers of hepatic lobules surrounded by pale coloured unaffected peripheral areas. This appearance is known as nut meg liver. In a long standing case of chronic venous congestion, there will be increased fibrosis, decreased liver size and parenchyma is divided into lobules and condition is known as cirrhosis of liver.
Microscopy
Central vein and sinusoids are distended with RBCs. Some areas of hemorrhage are present. When these RBCs are phagocytosed by macrophages, they are called siderophages. Central lobular necrosis due to central vein congestion is seen. Fatty change is due to hypoxia in peripheral hepatocytes is also seen.
Want a clearer concept, also
See all images on Chronic Venous Congestion in Lungs
See all images on Chronic Venous Congestion in Liver
See all images on Chronic Venous Congestion in Spleen