Consist of two kinds of muscle cells
1. Contractile cells: 99%
Atrial & Ventricular Muscles
(Myocardium)
2. Conducting or Autorhythmic cells:
1%
Impulse generating and conducting system of heart
Myocardium
• Consists of interlacing bundles of Y shaped muscle cells, spirally arranged around the circumference of the heart
• Branching fibers
• Interconnected by intercalated discs
Two types of 'Membrane Junctions'
– Desmosmes
– Gap Junctions
Has actin and myosin filaments
• Has low resistance
(intercalated disks (1/400 the resistance of cell membrane)
Atrial and ventricular "Syncytium"
• No gap junctions between Atrial & Ventricular "Syncytium"
• Abundant mitochondria (Up to 40% of cell volume)
• Heart depends on aerobic energy
• Cardiac muscle has abundant Myoglobin
1) To store O2
2) To facilitate O2 transport to mitochondria
• No New cardiac muscle is produced after infancy
• The muscle 'Hypertrophies' (↑size of muscle fibers)
• Actin and Myosin filaments in 'SARCOMERE'
• Sarcotubular system
Action Potential
• Resting membrane potential (RMP) of cardiac
muscle is -85 to -95 mv
• Action potential (AP) is 105 mv
• Plateau lasts ~ 0.2 – 0.3 sec in ventricular muscle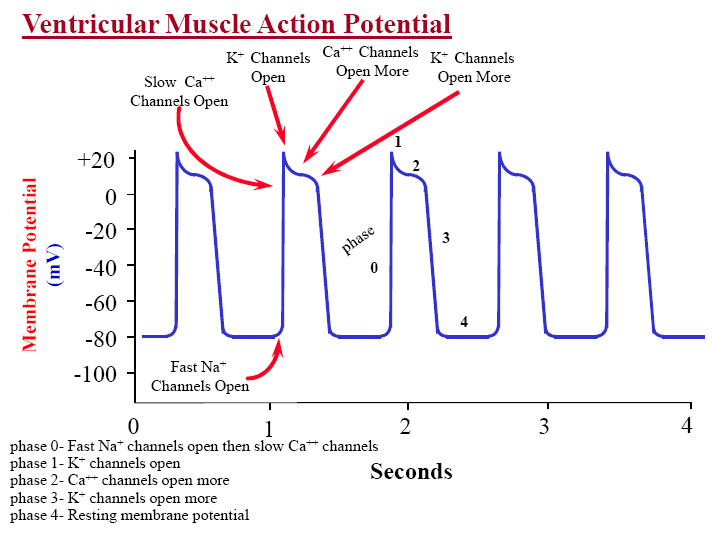 Phase 1  Depolarization (Rapid)
Voltage gated sodium (Fast) channels. ↑PNa
then,

↓PNa+, ↑PCa++, ↑PK+ (K+ leak channels)
• Phase 2: Plateau (sustained depolarization)
PCa++ (in) = PK+ (out)
↑PCa++ (Slow Ca++-Na+ channels or L-type Ca++ channels)
• Phase 3: Repolarization
(PK+ > PCa++)
Voltage gated K+ Channels ↑PK+
• Phase 4: Restoration of RMP
K+ Leak channels, Na+-K+ ATPase
Refractory Periods: 250-300 msec (in N&M= 100 msec)
• During this time cardiac muscle cannot be re-excited
Atria = 150 msec [0.15 sec], Ventricles = 250 msec [0.25 – 0.30 sec],
Purkinje fibers = 300 msec [0.30 sec].
1. Absolute Refractory Period (ARP) = 200 msec
2. Relative Refractory Period (RRP) =50 msec
3. Supernormal Period (SNP)
 Usefulness of Prolong Refractory Period
• No tantanization
• Sustained myocardial contraction → An 'Effective Pump'
Spreading of Action Potential
 Spreads along Sarcotubular System:
a. Through circuits of current b. Gap Junctions
 Excitation – contraction coupling:
i. 'Ca++– Pulse' or 'Ca++ Spark' or Ca++ trigger (cannot initiate
contraction alone)
ii. Ca++ induced Ca++ Release = Together built higher ICF Ca++
Results of Action Potential
• Ca++ release from sarcoplasmic reticulum
• Ca++ release from T- tubules, which are large
& very important source of Ca++.
• T-tubule Ca++ depends strongly on extra
cellular Ca++ concentration
• Mucopolysaccharides bind Ca++
Properties of Myocardium
• Excitability
• Conductivity
• Contractility
• Refractory Period
• Rhythmicity
• All or None Law