Metronidazole is a prodrug itself, activated by reduction of nitro group.
Structure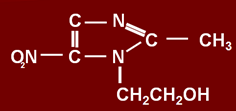 Mechanism Of Action
Protozoa get energy by ketoacids e.g. pyruvates. This mechanism is described as: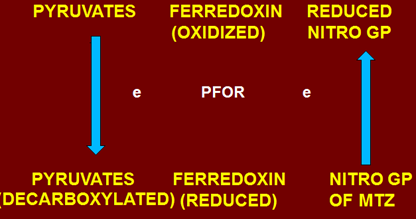 The active form:
affects DNA structure
react with other proteins and molecules in protozoa and some anaerobic bacteria.
In DNA:
loss of helical structure
strand breakage may occur
intercalation when molecules fits between base pairs.
Mechanism of resistance
1. These protozoa are anaerobic, thus have mechanisms for scavenging oxygen or ROS. If mechanisms which scavenge oxygen are effected, decreased clearance of ROS occur leading to excess and decreased reduction of nitro group of metronidazole due to competitive inhibition with reduction reaction.
2. In ETC,
i. PFOR
ii. Ferridoxin are important
Now in some there is decreased PFOR and ferridoxin probably due to chromosomal mutations, leading to decreased action of drug.
This can occur by:
Increasing the dose
Prolonging therapy
This resistance is seen in:
Giardiasis
Trichomonas infection
Microaerophilic bacteria i.e.

H. pylori
Campylobacter species
Resistance is not seen in E. histolytica.
Spectrum of activity
A)     Anaerobic protozoa
E. histolytica
T. viginalis
B. coli
Giardia lamblia and G. intestinalis
B)      Anaerobic bacteria
Both gram positive and negative.
Bacteroides species esp. B. fragilis
Clostridial spp
Peptococcus
Peptostreptococcus in oral cavity, so used by dentisits
Fusobacterium
eubacterium
C)     Microaerophilic bacteria
H. pylori
Campylobacter spp
D)     Adult dracunculis medinensis (Guinae worm)–
Especially metronidazole aids extraction of worm
Does not kill the worm
Therapeutic Uses
Spectrum
Therapeutic uses
E. Histolytica

Acute intestinal amoebiasis
Hepatic amoebiasis
Amoeboma
Tissue amoebiasis

Oral tablets

I/V infusion in severe cases 3 times per day

7-10 day course -400 mg tablets thrice daily

T. Vaginalis
Vaginal & urethral Trichornoniasis

Treat both male and femal patients

2g/day in OD dose

Giardia lamblia
Giardiasis

250 mg thrice daily for 7-10 days.

Ballantidium coli
Ballantidiasis
Anaerobes

Bacteroides fragilis

Helicobacter pylori

Pelvic and other below the diaphragm anaerobic infections(appendicitis, combined with penicillin or aminoglycosides)

Triple regime is used.

Indolent ulcers
Peptic ulcer

Also used in NSAIDS induced ulcers. Used in combination with:

Clarithromycin

Gardenella vaginalis

Gardenella vaginalis infection
Non specific vaginitis

Peptococcus

Peptostreptococcus

Fusobacterium

Acute ulcerative gingivitis
Cancrum oris causing gangrene and scars
Other dental infections

Used with penicillins
Other Uses
Crohn's disease
Guinea worm infestation (extraction)
Pseudomembranous enterocolitis due to prolonged use of ampicillin or clindamycin, etc. Metronidazole is drug of choice. Vancomycin can be used (its only oral indication).
Pharmacokinetics
Oral, I/V, vaginal creams or even topical preparations
Very well absorbed, very little reaches colon, so usually combined with luminal anti-amoebics e.g. Diloxinide etc.
Distribution is equal to total body water
PPB is <20%
Distributed to saliva, milk and CSF, pleural cavity, vaginal secretions, urethra and even in bones.
Metabolism occurs in liver by oxidation and glucuronidation. It can be increased by phenobarbitone, phenytoin sodium and rifampicin. It can be inhibited by cimetidine.
Excretion of metabolites occurs through kidneys.
Side-effects
Toxic and Irritative actions
nausea
headache
dry mouth
metallic taste (as secreted in saliva like clarithromycin, very unpleasant taste)
dark coloured urine (reddish brown in color due to excretion of pigments like furazolidine and rifampicin)
One needs to educate patients about these effects.
CNS
diziness,
vertigo,
insomnia,
parasthesias
Others
leukopenia,
phlebitis (i/v),
mutagenic in bacteria and carcinogenic in rodents –not seen in humans AIMS test is done to check it.
Teratogenic
not significant effect
avoided in 1st trimester
Allergic reactions
Pruritis,
Urticaria,
Flushing,
Stevens johnson's syndrome (erythema, multiformis major oral mucosa and conjunctiva)
In severe cases –myocarditis, pleuritis, may be fatal.
Super-infections
Oral candidiasis
Stomatitis
Disulfiram like reactions
When combined with alcohol. Symptoms include:
nausea
vomiting
abdominal pain
dizziness
vertigo
even seizures
Used in alcohol aversion therapy. Other drugs causing it include:
Cephalosporins (having MTT ring)
Sulfonyl ureas
Continue Reading