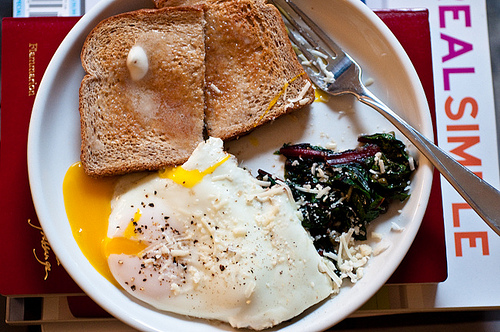 FOOD PROVIDES FUEL
Ø      Body requires fuel to provide energy for cellular metabolism and repair, organ function, growth & body movement.
Ø      Food is the fuel that keeps the machine that is our body running.
Photo by karigee
ENERGY RECOMMENDATIONS:
Ø      Carbohydrate:   45% – 65%
Ø        Fat:                   20% – 35%
Ø        Protein:            10% – 35%
BMR
(Basal Metabolic Rate)
Definition:
"The rate of energy expended at rest (as Kcal/h) is measured as basal metabolic rate(BMR) or resting metabolic rate.(RMR)".
ENERGY REQUIREMENTS ARE BASED ON:
Ø      Basal Energy Expenditure  (BEE)
or
Resting Energy Expenditure(REE)
"-Energy needed to maintain life sustaining ( respiration, circulation, temperature, muscle tone etc). Accounts for 60-75% of total energy expenditure."
ENERGY FOR PHYSICAL ACTIVITY
n      Physical activity increases energy needs above basal energy needs.
n      Caloric expenditure is dependent on:
n      Type of activity
n      Duration
n      Intensity
n      Weight of the person
n      Usually  15—-30% of total energy expenditure.
TWO OTHER ENERGY EXPENDITURES.
Thermic Effect of Food (TEF)
Energy used to digest foods and beverages, and absorb and process the nutrients
Approximately 10%  of total energy expenditure.
Non-exercise Activity Thermogenesis (NEAT)
Energy spent on involuntary skeletal muscle activity such as fidgeting, shivering, and maintaining muscle tone or body posture.
May account for 800 kcal/day.
REGULATION OF FOOD INTAKE
Ø      HUNGER
Ø      SATIATION
Ø      STAITY
Ø      APPETITE
Ø      DIET COMPOSITION
Ø      PORTION SIZE
Ø      GI SENSATIONS
Ø      TEMPERATURE
Ø      NEUROLOGICAL& HORMONAL FACTORS.
Ø      ENVIRONMENTAL&SOCIAL FACTORS.
BODY COMPOSITION
(2 compartment model)
Ø      Fat
Ø      Lean Body Mass (LBM):
(bones, muscles, tissues, organs)
70 kg person with 20% body fat:
•         Lean tissue:                  70 kg x .80 = 56 kg
•         Fat tissue:                     70 kg x .20 = 14 kg
EXCESS ABDOMINAL FAT,
Ø      Raised blood lipid levels.
Ø      Glucose intolerance.
Ø      Insulin resistance.
Ø      High blood pressure
Ø      Increased risk of heart disease
Ø      Increased risk of DM
HOW DO WE MANAGE OUR WEIGHT?
BODY MASS INDEX  (BMI)
Ø      body weight (in Kilogrammes) divided by the square of height (in meters),expressed in units of Kg/m2.
Weight in (Kgs)
BMI=    _______________
2
Height       (m)
VALUES OF BMI
< 16          malnourished
16-18.99   underweight
19-24.99   normal
25-29.99   pre-obese/overweight
30-34.99   grade-I obesity
35-39.99    grade-II obesity
>40            grade-III obesity
WEIGHT REGULATION
Ø         Fat Cell Theory.
Ø         Set Point Theory.
WEIGHT MANAGEMENT
v     Definition:
"Weight management  is the adoption of healthful and sustainable eating and exercise behaviors' indicated for reduced disease risk and improved feelings of energy and wellbeing."
WEIGHT MANAGEMENT MEASURES
Ø      Adopting healthy life style.
Ø      Appropriate diet.
Ø      Total calories.
Ø      Fat calories.
Ø      Complex carbohydrates.
Ø      Proteins.
Ø      Eating habits.
Ø      Physical activity.
Ø      Thinking & emotions.
WEIGHT MANAGEMENT PROGRAMME
(components)
Ø      Sound weight management programme.
Ø      Self acceptance.
Ø      Desire for change.
Ø      Cognitive behaviour change strategies.
Ø      Adequate exercise.
Ø      Balanced diet with moderate calorie restriction.
Want a clearer concept, also see